Wat Suthat Thepwararam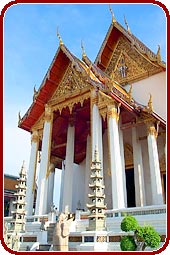 Founded at the center of Ratanakosin Island, Wat Suthat is one of Thailand's six most important temples. The temple is featured as Bangkok's tallest Wiharn and houses 14th century Buddha statue from the Sukhothai period, Phra Sri Sakyamuni.

The construction of Wat Suthat was first undertaken by King Rama I, continued by King Rama II and completed according to plan by King Rama III, total of 27 years to complete. Good planing from the beginning earned it praise as 'the most finely proportioned temple'.

The temple is essentially of two big chapels, one almost square, opening towards the north, while the other long and narrow, opening towards the east and situated to the south of the first chapel. The northward edifice, Phra Wiharn Luang, is a two-tiered roof structure with front and back porches which also have two-tiered roof. The gable-ends of the Wiharn have the design of 'Indra on the Erawan' while those of the porches show 'Vishnu on the Garuda'.

Erected on a high terrace, the Wiharn is located in the center of a courtyard enclosed in a covered gallery of 156 Buddha images in meditation. The central pair of door panels, which are now in the National Museum, were designed and initially carved by King Rama II. The principle image, Phra Sri Sakyamini, is a bronze image of the Buddha in subduing the Mara attitude. It is considered one of the largest Sukhothai period Buddha images in existence with a knee span of 6.25 meters wide and a height of 8 meters. The remaining from the cremation of King Ananda (Rama VIII) were interred in the pedestal of this Buddha image.



The pillars and walls inside the Wiharn have painting done in the reign of King Ramma III showing people in the four worlds or 'dveep' according to the 'Tebhumikatha' and the jataka stories. This painting are considered to be the most beautiful work of the Ratanakosin period.

The great chapel lying on the South side is a long building of 72 metres, the longest in Thailand. Phra Phuttha Trilokachet, the principle Buddha image, was casted in alloy in the reign of King Rama III. This subduing the mara image has a knee span of 5.16 meters and a 8.36 meters height making it one of the largest casted Buddha images of the Bangkok period. In front is an assembly of eighty great disciples.

In front of the temple is the Giant Swing or Sao Ching Cha where a Brahmanic ceremony had taken place until the early 20th century. In an annual ceremony to celebrate the rice harvest that was still observed just before World War II, men used to ride on the Giant Swing and try to grab a bag of silver coins attached to a pole. Nowadays, only the teak arch remains.