Lumpini Park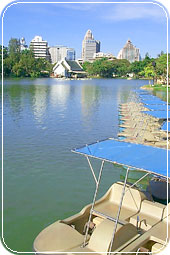 Named after the Buddha's birthplace in Nepal, this is Bangkok's largest and most popular park. The park is bordered by Rama IV Road to the South, Sarasin Road to the North, Witthayu Road to the East and Ratchadamri Road to the West, with entrance gates on all sides. A large artificial lake in the center is surrounded by broad, well-tended lawns, wooded areas and walking paths. In other words, it is the best outdoor escape from Bangkok without leaving town.

This 360-rai (58 hectare) plot of land was formerly known as the Sala Deang field, and was the private property of King Rama VI. In 1925, the King donated the land to the nation to be used as a public and fair ground. The Siamrath Phiphithapan Trade Fair held here to promote Thai producta among Thais and forigners was discontinued after the death of the King Rama VI.

One of the best times to visit the park is in the early morning. Suan Lumpini is a place of moods rather than sights. In the morning it's full of people exercising. More striking and graceful than the joggers are Chinese tai chi groups, making slow movements to music. Along the gates, vendors set up tables to dispense fresh snake blood and bile considered a health tonic by many Thais and Chinese. Rowing boats and puddle boats can be rented at the lake. A weight-lifting area in one section becomes a miniature "muscle beach" on the weekends. Other facilities include a snack bar, several areas with tables and benches for picnics and a couple of tables where ladies serve Chinese tea. Rest rooms are placed at intervals throughout the park.

Koh Loy or Floating Island
King Rama VI arranged for example of native plants from all regions of the country to be planted here for the education of the people.

Royal Monument of King Rama VI
Located at the park's main entrance. Alumni of Vajiravudh College built the memorial with the additional funding from the government of F.M. Plaek Pibulsongkram and public donations.

Clock Tower
This Chinese style structure was built in 1925 as preparations for the Siamrath Phiphitthapan Trade Fair.

Public Library
This is the first public library in Thailand. It has 30,000 books and has opened audio and visual educational services, promotions to encourage reading, and book exhibitions etc.