The dental implant is a screw-shaped buttress, which replaces the natural dental root. The implant is inserted in the jawbone, where it will be firmly embedded by the bone after an average of 6-8 weeks. During this healing phase, dental implants are usually not covered by soft tissue, so a further surgical procedure is not required when the crown is attached.

Dental implants are made from commercially pure titanium. This material is integrated without complications by the body's tissues, no allergical rejection reactions occur. Firm anchorage in the bone and harmonious adaptation of the gum margin to the implant body result in a solid foundation for reliable and long-lasting dental substitution.

Restoring naturally beautiful, confident smiles means more than just restoring teeth, it means restoring and improving your quality of life. With dental implants, chewing and speech are restored or improved, and a permanent natural appearance is achieved. Whether you are missing one or all of your teeth, implants allow you to enjoy your favorite foods and have the confidence you desire for an active professional and social life.

What conditions must be met for implantation?

Basic requirements for implantation are an adequate bone supply with regard to quality and volume, good oral hygiene, and normal wound healing capacity. Before implantation, the natural teeth are rehabilitated, and any gum disease is treated and eliminated. Important guarantees of long-term successful implantation are conscientious oral hygiene and regular check-ups with the dentist.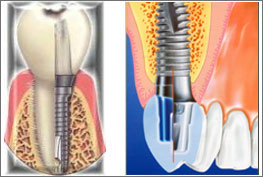 Single Tooth Replacement

- Unlike bridges and dentures, implants more closely mimic natural teeth in appearance, feel and function.
- Unlike a conventional three-unit bridge used to replace a single tooth, the healthy adjacent teeth do not have to be modified to support the bridge








| | |
| --- | --- |
| | An Implant is placed in bone and covered with a protective cap while it is allowed to heal. Depending on the amount of bone, your clinician may need to do additional procedures to build up the bone |
| | |
| | The final step is to affix a crown shaped and colored to match your surrounding teeth. The finished result matches your natural teeth. The entire implant procedure can be completed in as little as two months, with just three office visits |