The Original System is continuously being developed, setting trends in the dental market with regard to aesthetics and function. The most recent innovation from the field of all-ceramics is called IPS Empress® Esthetic. The material opens up a host of unexpected possibilities, particularly for veneers.




IPS Empress® Estheticis a new pressed ceramic system, which fulfils today's standards of cosmetic dentistry, which are particularly concerned with exceptional aesthetics and minimally invasive treatment methods.
Ideal for veneers, IPS Empress® Esthetic provides us with the materials to create your life-like veneers with the characterization and translucency that rivals Mother Nature herself. These true to nature esthetics are not limited to veneers - IPS Empress® Esthetic can also be prescribed for esthetic crowns, inlays and onlays.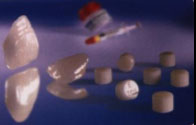 IPS Empress® Estheticoffer you:
True to nature esthetics
Homogeneous leucite ceramic distribution allowing for:
> Higher flexural strength
> Improved optical properties




Ask us this new system for Maximum Esthetics with Minimal Tooth Reduction prescribe veneers for your next "Perfect Smile"!
6-year survival rate of 98.8% for veneers (IPS Empress®)
M. Fradeani
Int J Preriodont Rest Dent 1998; 18: 217 - 225
6-year survival rate of 98.8% for veneers (IPS Empress®)
D. Edelhoff et al
Dtsch Zahnarztl Z 55 (2000) 5
6-year survival rate of 95.5% for inlays/onlays
(IPS System®)
C. Lehner, S. Studer, U. Brodbeck, P. Scharer
Acta Med Dent Helv 1998; 3: 137 - 146