National Museum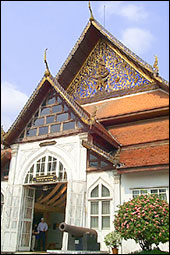 The first museum in Thailand was established at the Grand Palace to include the private collection of antiquities of King Mongkut (King Rama IV, 1851-1868). The first public museum in Thailand was founded in 1874 by his son, King Chulalongkorn (King Rama V, 1868-1910). The collection included his personal art objects and antiquities, mounted stuffed animals purchased in Europe and the United States, skeletons, rocks and minerals.

In 1926, King Prajadhipok (King Rama VII, 1925-1934) established the Royal Institute of Art, Literature and Archaeology. The Bangkok Museum, then under the supervision of the Royal Institute, was reorganized into a museum of art and archaeology and moved to the "Palace to the Front" or "Wang Na" which has been the palace of the Prince Successor. The collections devoted to cultural heritage were enlarged and the museum became the Bangkok National Museum.

There are 38 national museums throughout the country included in a museum network divided into four categories: regional, site, provincial and monastery.

The Bangkok National Museum is dedicated to preserving the national cultural heritage through collections of art, archaeological and cultural objects in the Palace of Wang Na compound near the Grand Palace. The Gallery of Thai History is located in the Sivamokhaphiman Hall, with the Prehistory Galley at the rear of the building. The History of Art collection is displayed in the South and North Wings and the Minor arts, Royal Cremation Chariots and Ceremonial Objects are exhibited nearby in other buildings within the palace compound.

The visit starts with a useful introduction to Thai history. Note the black-stone inscription form Sukhothai, the oldest-known record of the Thai alphabet. Two large modern buildings house the main collection of pre-Thailand Thai sculpture, as well as pieces from elsewhere in Asia. An important exhibit in the southern wing is one of the earliest images of the Buddha from Gandhara in India, clearly influenced by classical Greek sculpture. A garage in a nearby building houses the collection of magnificent royal funeral chariots. Vajayant Rajarot is still used even though it needs 300 men to pull it.

In the past, the Front Palace was of secondary importance only to the main palace, and was the residence of Somdet Chao Phraya Maha Surasinghanat, the heir apparent. The many buildings inside include Bhuddhasawan Chapel, Tamnak Daeng (Red House), Mungkhalaphisek Pavilion, and Sala Longsong Pavilion, considered to be "Outstanding examples of traditional Thai architecture."

Free English-language tours of the museum are given by National Museum volunteers on Wednesdays (Buddhism) and Thursdays (Thai arts, religion and culture), starting from 9:30am. These guided tours are excellent and many people have written to recommend them.The tours are also conducted in German (Thursdays), French and Japanese (Wednesdays). For more information: contact the volunteers (Telephone 215-8173).