Dental Sterilization
Effecting very strict hygiene policies, an infection control system is placed to ensure stringent health and safety requirements. Our dental appliances are individually packed and sealed by our impulse auto-sealer machine then autoclaved by our pre-vacuumed autoclave. All of our dental instruments are sterilized by autoclave with a high temperature up to 135 C using a vaporizing effect created from high pressure pushing heat thoroughly all over and through every part of the instrument, even a very tiny space.

Our autoclaves set the standard for steam Sterilization. This autoclave is designed to compliment any healthcare and medical facility.
Our dental instruments are precise which require regular maintenance and check up. All our dental equipments and instruments are maintained and sterilized according to international standards with CE certified sterilization machines. These very high standards have help attract many companies, schools, airlines and embassies to sign corporate contracts with us.

Our dental clinic regards hygienic standards at the highest level. We always provide a safe and clean environment. We meet or exceed all guidelines set forth by the ADA, OSHA, and the Center for Disease Control. We employ hospital cleanliness standards and sterilization techniques.

Our clinic has control checks in place to provide a clean, disinfected environment for each patient. Policies are in place to ensure that all rooms and equipment are properly set up and sterilized daily and after each use. Water used for patient treatment are ultra-violet and ozonation filtered. We use protective equipment such as latex gloves, masks, eyewear, and lab coats. And when possible, we use disposable items.

We welcome your questions and the opportunity to demonstrate how we handle sterilization techniques and patient protection. We want you to feel comfortable about your treatment in our office.

Dental instruments are precision tools which require regular maintenance. All our equipments and instruments are maintained and sterilised according to international standards using CE certified sterilisation machines.

Our dental handpieces, dental units and other dental equipments are selected not only for their technological advancements but also for their specific design focus on sterilization approaches.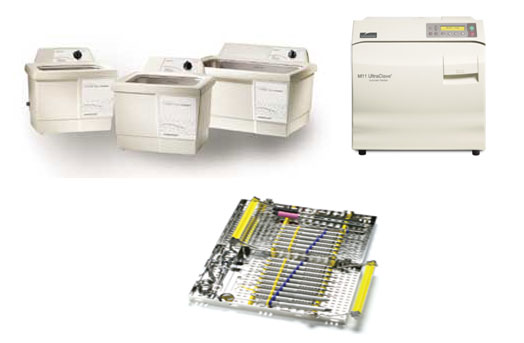 Our dental appliances are individually packed and sealed by our impulse autosealer machine then autoclaved by our pre-vacuumed autoclave units in viewpacks for each patient. Every pack of dental appliances are dated to uphold high standards of sterilisation.

At Thailand Dental Center, extra steps are taken to ensure all our equipments are properly and fully sterilized. Separate steriliazation machines are kept for autoclaving instruments and clinical handpieces. Please see our sterilization machines and technologies for more details on our concentrated focus with regards to the area of sterilization.
Additinally, we also use the Attest Biological Monitoring System by 3M ESPE to verify the effectiveness of our sterilization efforts. The 3M Attest sterilization is a proven and reliable system with a 20 year product history using biological indicator system for monitoring steam sterilization. This is used to ensure that our sterilization controls and standards are well assured and above those of required standards.
Has a self-contained biological indicators significantly reduce the possibility of contamination, minimizing false positives and ensuring more accurate results.
Incubator automatically crushes vial to release medium, making it safer and easier to use than other systems.
14-vial capacity to meet the needs of both small and large offices.
See-through cover allows for easy observation and reading of indicator color change.
Dry-block design is pre-set to proper incubation temperature to ensure consistent, accurate results.
System is color-coded for quick reference and easy use.